Back to all posts
Posted on
Youth Wellness Leader Certification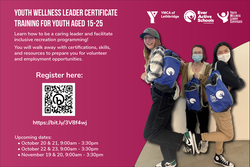 Ever Active Schools along with the YMCA of Lethbridge are presenting a training program for students interested in facilitating recreation programming (such as summer camps). The 2-day program is free and, upon completion, students receive Youth Wellness Leader certification and be eligible for high school credits (please contact Jason Kwasny - jason.kwasny@pallisersd.ab.ca if you are interested in the credit).
The sessions will run 9:00 am to 3:30 pm on both Saturday and Sunday. Lunch is provided and participants can request transportation support in the form of gas cards if they are travelling from outside the Lethbridge city limits. Support can be requested in the registration form. 
Registration and more information can be found here.