Back to all posts
Posted on
Drivers EDge- April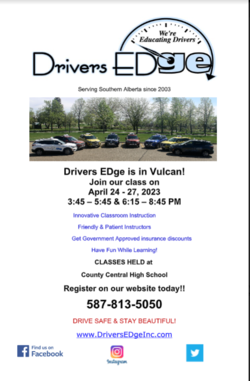 Driver EDge will be in Vulcan April 2023 to offer our program!
Classroom session will run April 24 - 27, 2023, 3:45 – 5:45PM; 6:15 – 8:45
PM at the County Central High School. In-Vehicle Drive times will be
scheduled prior to the classroom session.
Course consists of 17 hours of classroom instruction and 10 hours of
in-vehicle instruction. The driving portion of the course will be broken
down into five 2-hour lessons. Three of the 2-hour lessons will be in Vulcan
and the remainder of the drive times will be booked in Lethbridge (students
will have to provide their own transportation to Lethbridge to meet the
instructor). More lessons can be scheduled in Lethbridge if you wish to have
more city driving. Please indicate if you are wanting more city driving.
Registration is now open until March 23, 2023 @ 12:00 PM.
To register in the program, you will need to go to our website www.DriversEDgeInc.com
Hit the register button on the top right. Choose the Registration Form -
Classroom and select the Vulcan April 24 - 27, 2023 class after your email is
verified. Parents will need to do this with the student, as you will each get a
verification code to enter. If you have any issues or questions, please call
the Drivers EDge office, Monday – Friday 9:00am – 5:00pm at 587-813-
5050. Payment can be made by credit card or e-Transfer. Cost of our
program is $839 + GST and must be paid at time of registration.
Hope to see you in class!
In case of a request for refund, there is a $200 non-refundable administrative fee.