Healthy Living
20 steps to a healthier you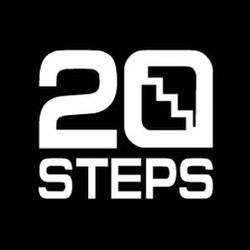 1. Eat regularly. Skipping meals can leave you feeling so famished that you end up overeating later in the day.
2. Guzzle H20. The benefits of drinking water range from increasing energy to regulating appetite to improving digestion.
3. Overhaul your morning meal. Eating a healthy breakfast is so very important and will help keep you on track the rest of the day. (And remember to snap a picture of it for a chance to win $400! Here's the one I submitted: protein-packed Greek yogurt mixed with high fiber cereal and banana slices.)
4. Take the stairs, choose a faraway parking spot, or walk the perimeter of that big box store—anything to sneak in a few extra steps each day.
5. Eat out of physical hunger. Take steps to stop emotional eating. 
6. Learn how to decode food labels. (Start with this simple video and be eligible for prizes!)
7. Get outside. Now that the weather is finally improving, try to get some fresh air three times a day for at least five minutes at a time. You'll feel refreshed, more productive, and better equipped to make healthier choices.
8. Keep expectations about your weight realistic. 
9. Make small, healthy swaps. Substitute olive oil for butter, plain Greek yogurt for sour cream, fresh fruit for candy, baked foods for fried ones, etc. 
10. Commit to exercising for just 30 minutes a day.
11. Stay on track even on the weekends. Don't use the fact that it's Saturday or Sunday as an excuse to make unhealthy choices.
12. Get some extra zzzzzzz's. If you're not getting the recommended 7-9 hours of sleep per night, try going to bed just 10 minutes earlier each night for a week and see how you feel.
13. Sit less, stand more.
14. Improve your nutrition IQ. (Test your smarts with the We Dare You to Share campaign and you'll be entered to win a $400 pre-paid gift card.)
15. Decompress daily. Spend just a few minutes praying, meditating, or taking deep, cleansing breaths. 
16. Snack wisely. 
17. Use technology to reach your goals. Check out these healthy living apps for some great ideas! 
18. Identify your true motivation. What is it about living a healthier life that's appealing to you? 
19. Try data-driven, research-supported solutions (like these inspired by Google Headquarters!) to navigate your biggest healthy eating pitfalls. 
20. Refuse to believe you've ever "blown it"—because you haven't! Instead, try this inspiring and easy-to-apply 5-word motto truly healthy people live by.
How sugar affects the brain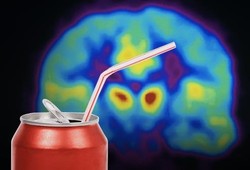 Healthy Apps
SPRING-          Cranking up some bumpin' beats is just what the doctor ordered to help you work out faster, stronger, and longer. Spring is an app that builds off that simple principle. DJs curate playlists with songs that have a similar range of beats per minute. All you have to do is run to the beat of the music. Your workout will be done before you know it, and you might even discover a new favorite song. (Free; iOS)
PUMP UP!-        Not all of your friends want hear about your PRs or your #beastmode workout. That's where Pump Up comes in. It's Instagram meets Facebook for the health and fitness set. The social platform is the perfect place to post progress photos and motivate other like-minded people to meet their fitness goals. (Free; iOS and Android)
Recipe of the Month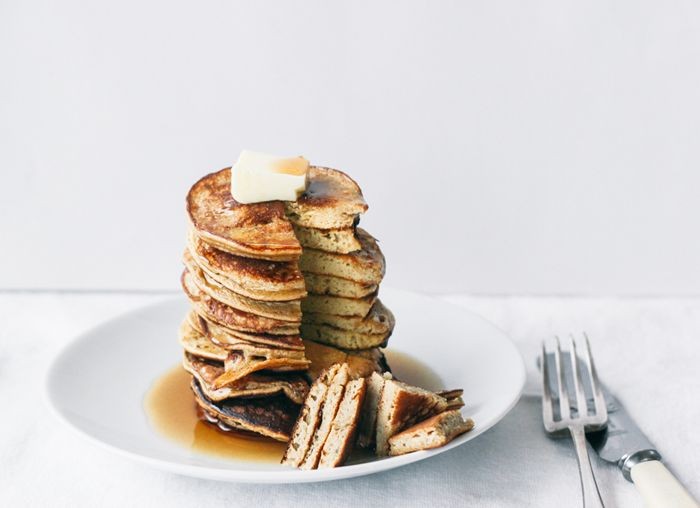 Banana Pancakes
1 and 1/3 cups (167g) whole wheat flour (or white whole-wheat) (measured correctly)
1/4 teaspoon salt
2 teaspoons baking powder
1 teaspoon ground cinnamon
1 large egg (or 2 egg whites)
1 cup (240ml) milk*
1/2 cup mashed ripe banana (about 1 large banana)
2 Tablespoons packed dark brown sugar (or light brown)
1/4 cup (63g) Greek yogurt*
1 teaspoon vanilla extract
1/2 cup add-ins like chocolate chips or fruit, optional
DIRECTIONS
Toss the flour, salt, baking powder, and cinnamon together in a large bowl. Set aside. In a separate medium bowl, whisk the egg, milk, and banana together. Whisk in the brown sugar and yogurt until no lumps remain. Whisk in the vanilla until combined.
Make a well in the dry ingredients and pour the wet ingredients in. Stir gently until just combined. Do not overmix the batter or your pancakes will be tough and very dense. Add any mix-ins you prefer, but again - do not overmix the batter.
Heat a griddle or skillet over medium heat. Coat generously with cooking spray, oil, or butter.  Once very hot, drop about 1/4 cup of batter on the griddle. Cook until the edges look dry and bubbles begin to form on the center or sides, about 1 minute. Flip and cook on the other side until cooked through, about 2 more minutes. Coat griddle/skillet again with nonstick spray for each pancake or batch of pancakes.
Keep pancakes warm in a preheated 200F degree oven until all pancakes are cooked. Serve immediately. Pancakes taste best right after they are made. Pancakes freeze well, up to 2 months.
Workouts
Back to school workout routine
https://www.youtube.com/watch?v=SW_2uAw2NAs
Holiday workout
https://www.youtube.com/watch?v=zjHTJlj3YAk
I really like you squat challenge
https://www.youtube.com/watch?v=zjHTJlj3YAk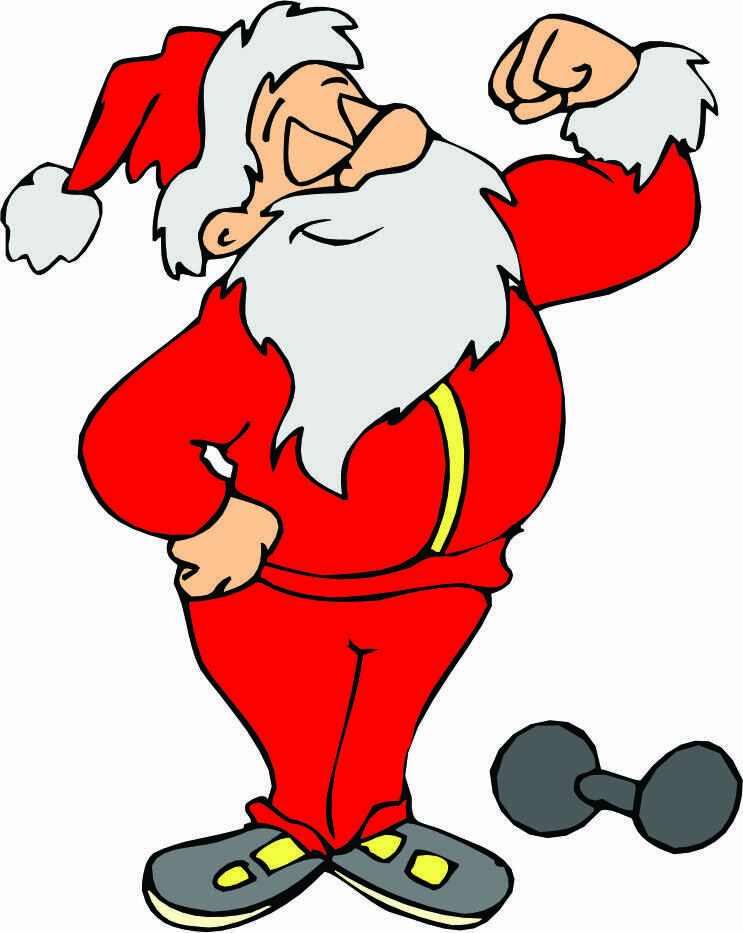 Healthy Infographics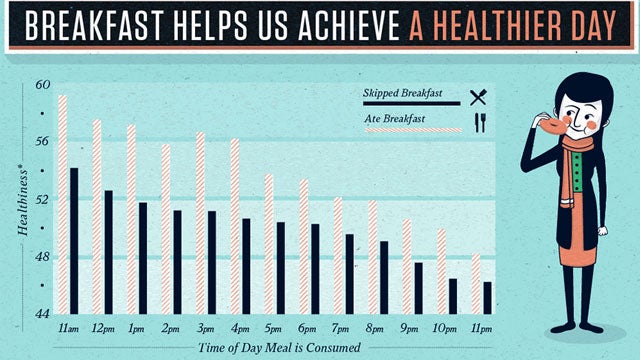 Healthy Tips for Lazy People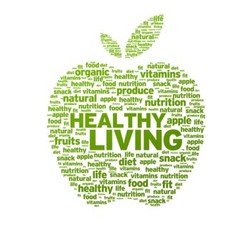 Lazy health tip 1: Build exercise into your routine
Many of us think we need to spend hours working up a sweat at the gym to stay fit. However, while intense workouts are beneficial, they can also be extremely off-putting and are not strictly necessary. Research shows that regular daily activity could be more effective than sporadic workouts, so rather than allotting a specific "exercise time" a day, try peppering your day with gentle bits of activity such as taking the stairs instead of the lift, doing the housework, or walking to the shops at lunch.
Lazy health tip 2: Make your own ready meals
We all know that eating fresh, homemade produce is good for us, yet many of us are far too tired to be whipping up a culinary masterpiece after a hard day's work.  However, rather than falling into the trap of relying on shop bought ready meals which may be lacking in nutritional value, try making your own healthy versions instead. By cooking up healthy meals in large batches at the weekend, you can be sure to have plenty of healthy choices in your freezer for those days when you're too lazy to cook.
Lazy health tip 3: Get a pet to improve your health
If you want big health results without making a big effort, getting a pet could be the way to go. Multiple research studies have shown that pet owners have improved physical and mental health, including lowered blood pressure, better ability to cope with adverse life effects, and lowered stress levels. For those who need encouragement to up their fitness levels, getting a pet dog may also provide you with that push you need to get out and get active.
Lazy health tip 4: Exercise while watching TV
Vegging out in front of the TV can be the quickest way to pile on the pounds. However, couch potatoes needn't despair; there are plenty of ways to keep healthy and active in front of the screen. To boost your fitness while watching TV, try squeezing a mini-workout into each commercial break. From situps to skipping or a quick run up and down stairs, there are plenty of ways to introduce activity into your TV-watching schedule. The golden rule is simply to keep moving, with research suggesting that even fidgeting while sitting can burn up to 350 extra calories a day.
Lazy health tip 5: Do a crossword puzzle
If you really can't find the energy to put yourself through a workout, take the opportunity instead to work on another area of your body – your brain. Boosting your mental health is just as important as improving your physical wellbeing, and luckily this can be done from the comfort of your couch. Research has found that frequent participation in mentally stimulating activities can reduce your risk of Alzheimer's disease, so rather than switching on the TV when you get in from work, give your brain a challenge and reach for a crossword, Sudoku puzzle or book instead.
Lazy health tip 6: Have leisurely meals
If there's one instance where being lazy is an advantage, it's when eating your meals. Taking long, leisurely meals – as opposed to eating on the run or multi-tasking – is a great way to look after your digestive system and also help you lose weight. By eating more slowly and focusing on your food, you will enjoy and savor it more and cut the risk of overeating. Also, as it takes 20 minutes for your body to register the feeling of being full, by eating more slowly you will feel full after less.
Lazy health tip 7: Order a fruit and veg box
If compiling your own healthy shopping lists feels too much like hard work, save time and energy by letting someone else do the work. Many farms and health food stores now deliver seasonal fruit and veg to local areas on a weekly basis, making it easy to try varied healthy produce without stepping foot out your door. Alternatively, for those who want more and have pennies to spare, several companies now offer the option of having prepared healthy meals delivered direct to your home.
Lazy health tip 8: Hit the dance floor
While the idea of a workout fills many with dread, there are plenty of ways to stay fit without it feeling like hard work. If you struggle to get motivated for an organised exercise session, try turning a night out into a workout instead. Hitting the floor for a dance is a great way to get fit, burn calories and tone and strengthen the body. More importantly, unlike with the gym, it provides a fun workout that won't feel like exercise.
Lazy health tip 9: Supplement your diet
Keep falling off the healthy eating wagon? Try complementing your diet with a good quality nutritional supplement or "superfood". While it's no substitute for a healthy eating regime, on those days when your good intentions slip by the wayside a good supplement should help tide you over. Try a multi-vitamin complex or a natural "superfood" – such as spirulina, wheatgrass or bee pollen – which is packed with nutrients to help keep your health on track.
Lazy health tip 10: Get lots of sleep
While laziness is generally considered to be detrimental to your health, when it comes to sleeping it can actually pay off. Research has found that sleep can help you live longer, boost your memory and reduce stress, while getting less than five hours a night can lead to accidents, weight gain, and increased risk of heart disease. While it's possible to have too much of a good thing, getting a regular eight hour's sleep is a cheap and simple way to boost your health.